Presentation of results by activity
Presentation of results by activity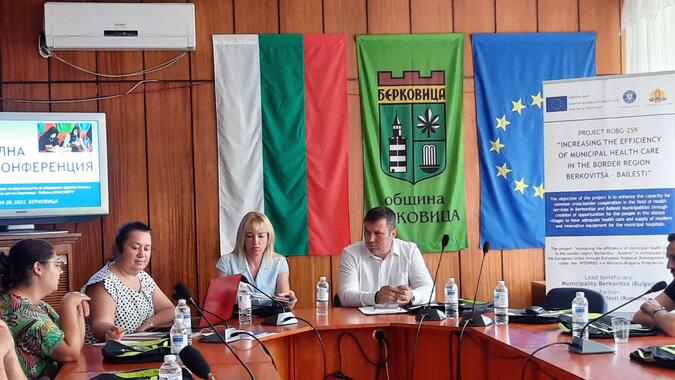 The purchased equipment ensures better and more efficient operation of both hospitals for as many patients as possible.
Berkovitsa Municipality
Mobile cardiology clinic

Mobile cardiology clinic - a field vehicle with superstructure and equipped with telemedicine equipment for the examination and diagnosis of heart disease, an ultrasound system for cardiac and vascular analysis and a cycloergometer system for stress testing.
Digital X-ray graphics camera 
Digital X-ray graphics camera - Two detector panels size: 17 "x 17", DICOM Modality Worklist, DICOM printing, DICOM storage, Remote service, WiFi router, Automatic detector reload, Resolution≥ 3000x3000 pixels, 4-way floating X-ray moving table with longitudinal, transverse and vertical movement. X-ray tube column with sliding on rails +/- 90° rotation on vertical axis.Electromagnetic brakes. Vertical Buki stand with Raster, vertical movement minimum 100 cm, ionisation chamber and emitter. Microprocessor controlled high frequency X-ray generator, microprocessor control, automatic exposure control. X-ray tube with rotating anode. Tube heat capacity ≥ 300KHU, AEC ionization chambers, DAP counter, manual collimator with DAP chamber and control console.
Vital sign monitors
Vital sign monitors - 4 pieces - devices for monitoring a patient's vital signs by: multi-channel EKG, SpO2, peripheral pulse, non-invasive blood pressure, respiration, temperature, with adjustable alarm intervals and ≥ 12" display. The applicability of the devices was proven during the COVID-19 pandemic to track critical patients.
Ultrasound system for general and abdominal examination (Ultrasound) 
Ultrasound system for general and abdominal examination (Ultrasound) - Mobile digital platform with full frequency range 1-18 MHz and dynamic range min. 250dB, min. 19" touch screen display - main colour display with FullHD 1920x1080 resolution and setting and parameter selection. Regimes: 2D, M-mod, PW (Pulse Doppler), CW (Continuous Doppler), HPRF (High Speed Pulse Doppler), Color (Color Doppler), Power (Power Doppler), Directional Power Doppler. Three active transducer ports. Linear transducer from 3 to 13 MHz with a minimum penetration depth of 100 mm. Convex transducer from 1 to 8 MHz with a minimum penetration depth of 410 mm. Minimum 3 transducer mounts that can be easily removed for cleaning and disinfection.
Mobile incubator for new-borns
Mobile incubator for new-borns with temperature control - Air from 20 to 39°C and newborn skin temperature control from 34 to 38°C; Oxygen level control from 21 to 80%; Humidity 60%; Mobile energy independence, both 220 V, 50/60 Hz and 12 V in ambulance and on battery with no less than 4 hours autonomy. Microprocessor control and alarms; Accessories for stretcher mounting.
Autoclave
Autoclave with chamber volume between 30-40 litres and power: 230V (50Hz), low power consumption up to 2000W. The chamber and outer panels are made of stainless steel for easy cleaning with a mechanism that prevents the door from opening while the chamber is under pressure, with built-in protections: automatic shut-off in case of overheating and automatic shut-off in case of lack of water.
Ultrasonic inhale
Ultrasonic inhaler for tracheal and bronchial mucosal humidification, bronchial disease therapy and drug therapy, with average aerosol droplet size <4 μm and adjustable airflow and therapy duration.

Portable respirator (Mobile breathing apparatus)
Portable respirator (Mobile breathing apparatus)
Transportable ventilator for professional use in emergency medical services and hospitals, with colour display, lightweight construction and rechargeable battery with up to 10 hours autonomy. Three pressure-controlled ventilation modes - IPPV (Intermittent Positive Pressure Ventilation), SIMV (Synchronised Mandatory Intermittent Ventilation), S-IPPV (Synchronised Positive Pressure Ventilation). Spontaneous ventilation mode with continuous positive pressure CPAP and NIV non-invasive ventilation with mask.
Bailesti Municipality
Anaesthesia machine
Inhalation anaesthesia machine for use in operating theatres, induction and recovery rooms. It can be used with O2, N2O and AIR supplied by a medical gas piping system or externally mounted gas cylinders. It is equipped with a compact breathing system that provides fresh gas decoupling, PEEP and pressure limitation.
Operating tables
The operating tables are radiolucent, multidisciplinary with radio-hydraulic actuation allowing surgical procedures to be performed in an ergonomic environment both sitting and standing.
Mechanical ventilation device
 It is intended for ventilating adult and paediatric patients. Provides mandatory ventilation modes, ventilation modes for spontaneous breathing support and airway monitoring.
Areas of use: in intensive care wards, in resuscitation wards and in specific environmental applications, in hospitals in general, during transport of patients within the hospital perimeter, during secondary transport from one clinic to another, during transport flight by aircraft or helicopter

Surgical lights
It is designed for treatment, examination and surgical wards. The Scialytic Ceiling Lamp is an assembly consisting of two domes and two arms.
Features: 6x50 LEDs, total 300 LED illumination: 2x160.000lux, electric control for illumination, 10 intensity levels, operating range: 350mm, shadow-free illumination of surgical area, colour rendering index >95, colour temperature: 4300±500°K, high colour temperature maintenance at any intensity level, cool light without infrared and ultraviolet
Good contrast and detailed image of the wound, special design allows air circulation, low energy consumption, heating at wound level is insurmountable (<2°C), LED lifetime (50,000 hours) ensures low operating costs.
Laparoscopic kit
Configuration: HDTV endoscopic image processing unit, HDTV endoscopic video camera head, LED cold light source integrated in main unit, HD LED monitor for laparoscopic system, professional mobile rack for laparoscopic system, CO2 insufflator for laparoscopic system, laparoscopic electrocautery.
Areas of use: ambulatory surgery, endoscopy, first aid, gastroenterology, general surgery, gynaecology, neurosurgery, orthopaedics, ENT, paediatric surgery, plastic surgery, pneumology, urology, vascular surgery, veterinary medicine


Ultrasound
High performance, stationary basic unit, built-in trolley with swivel castors and peripheral placement spaces
Applications available on equipment: cardiology, obstetrics and gynaecology, musculoskeletal, abdomen, vascular, soft tissue, urology, paediatrics.
Configuration: Base unit, multi-frequency volumetric convex transducer, multi-frequency endocavity transducer, static and real-time 3D reconstruction software, realistic 3D/4D reconstruction software with possibility to adjust light source, artefact reduction and contour enhancement software for 2D image enhancement, spatial compositing software for higher resolution in 2D mode, gel heater, digital black and white video printer, pile remover, universal disposable supplies - 10 pcs.

Fibro bronchoscope
Configuration: standard HD adult videobronchoscope, HD paediatric videobronchoscope, image and video viewing/storage system, leak tester, accessories, winch
Mobile radiology machine
Equipped with 32 w generator, x-ray tube, collimator, portable wireless digital detector, image acquisition and display system, accessories.
Various applications: bedside patient examination, emergency wards, trauma wards, paediatrics, surgery, etc.
Fixed X-ray machine
Equipped with patient table, port-tube column, collimator, vertical stand, high-voltage generator, X-ray tube, digital detector with cable for the table, digital detector with cable for the vertical stand, image acquisition console, multimodal viewing and diagnostic station, laser printer with three drawers for X-ray films.

Joint partnership and cooperation activities
Development of a joint morbidity survey in the cross-border area and a joint map of the incidence of the most common diseases.
The joint morbidity study in the cross-border region has ensured deeper cooperation in the field of health services between the municipalities of Berkovitsa and Bailești and provided more reliable information on the spread of diseases as well as better health care for the population. Obtaining adequate and up-to-date information on the most common diseases in the region led to the following main conclusion:
The most common causes of death in Berkovitsa municipality and Montana district, as well as in Bailești municipality and Dolj County and at national level for Bulgaria and Romania, are diseases of the circulatory system, followed by malignant diseases, neoplasms and diseases of the respiratory system. The higher total mortality in the Bulgarian territorial units compared to Romania is mainly due to higher mortality from circulatory system diseases and to a lesser extent from diseases of the respiratory system.
As a result of the study, the aim is to develop common policies and undertake joint actions to provide better quality, more efficient health services in the two municipalities.
The Healthy Lifestyle Guide is a document containing practical information for shaping population behaviour that will lead to limiting harmful habits that lead to the most common diseases.
Conference, seminar, exchange of experience
From 16.02.2022 - 18.02.2022 - A three-day conference was held to present the results of the Cross-Border Morbidity Study. The conference was actively attended by representatives of local authorities from the villages of Barziya, Borovtsi, Zamfirovo, Yagodovo, Slatina, Gaganitsa, Komarevo, Kostentsi, Chereshovitsa, Kotenovtsi, Mezdreya, Bokilovtsi, Bistrilitsa, Pesochnitsa, Leskovets, Perlichevo, Balyuvitsa, Roshovitsa and Tsvetkova Bara and doctors, health specialists from Bulgaria and Romania.
Round tables were also organized for discussion and promotion of the Healthy Lifestyle Guide in Berkovitsa Municipality.
The event ended with the signing of a Memorandum of Cooperation in the field of health care between Berkovitsa Municipality and Bailești Municipality.
An information exchange tool has been developed - a dedicated page (developed in Bulgarian, Romanian and English) containing an information exchange module allowing more efficient health services for each partner and cooperation between them.
https://healtheff-robg.eu/
Post on the project's Facebook page